Adam Botana is not a politician. He is a small family business owner who wants to make a difference. Adam is focused on improving Ft. Myers, Bonita Springs, and Sanibel so Southwest Florida remains the best place to work and raise a family. He is ready to roll up his sleeves and fight for our waterways and keep our community thriving. Adam spends his free time giving back to the community. Being born and raised in Bonita springs, he has a great love for his county as well as his state. You can often find him volunteering for environmental cleanups on the water, helping build a home for Habitat for Humanity, working on miscellaneous projects with Florida Gulf Coast University's Vester Marine And Environmental Science field station, running events to raise money for charities, and even out teaching boat classes with his dog Bailey. He is a driven and highly motivated business man, with undeniable ambition to represent his great state of Florida.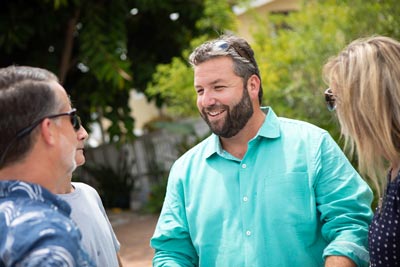 Invested In Our Community
Adam has committed $12,000 to pay for signs to mark seagrass beds in Estero Bay.
Hosts free weekly educational tours of local waterways in Lee County for anyone who is interested in learning about boating safety and how to protect the ecology.
Hosts an annual boat parade on the Imperial River, where over 40 boats participate for the community to enjoy.